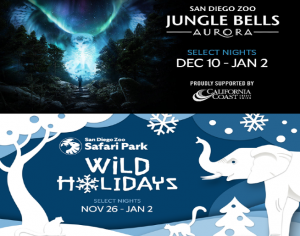 All THIS week listen to 103.3 KRUZ for the keyword of the day for your chance to win a Family 4-Pack pair of tickets to San Diego Zoo or San Diego Safari Park!
For further ticketing information click HERE
For official contest rules click HERE
Happening for the Holidays:
Jungle Bells at the San Diego Zoo
'Tis the season to celebrate—join us for Jungle Bells presented by California Coast Credit Union. Taking place December 10–23 and 25–31, 2021; and January 1–2, 2022, Jungle Bells brings the return of Aurora—a magical and spectacular experience with lights, projections, and music. Also enjoy traditional lighting displays musical performances and entertainment, visits with Santa (through December 25), tasty holiday treats, and much more. Visit www.sdzwa.org for more information.
Wild Holidays at the Safari Park
See the Safari Park in a whole new light! Every weekend and select weekdays starting November 26, 2021, through January 2, 2022, you can go on a holiday expedition of light and travel through places that glow and twinkle with holiday cheer. Holiday tunes set the mood, and seasonal food treats tempt you throughout your journey. Join us for a joyful celebration of the season! For more information, visit www.sdzwa.org.
__________________________________________________________________________________________________________________________
San Diego Zoo Wildlife Alliance is inviting everyone bring their smiles to the San Diego Zoo and the San Diego Zoo Safari for amazing outdoor experiences! Guests will have the opportunity to see amazing wildlife up close, enjoy wonderous entertainment after dark at the San Diego Zoo, or journey through wild and wonderous terrain at the Safari Park—all while knowing every visit is helping to save wildlife. Smile!
San Diego Zoo
Komodo Kingdom
A visit to the Zoo must begin with a stop at the newly opened Komodo Kingdom, home to a pair of the world's largest lizards: Komodo dragons. The male and female pair are mature (they may produce eggs as soon as this year), but these captivating reptiles grow for their entire lives.
Hummingbird Habitat
Visitors will want to flutter a few steps from the Komodo dragons to the habitat next door: an immersive aviary modeled after a cenote (define) bursting with tropical plant life and buzzing with numerous eye-catching species of hummingbirds and other winged beauties.
Penguins
Head down to Africa Rocks to catch a glimpse of the African penguins wading into their watery habitat for an adorable cool down. Once in the water, watch how they swim with a grace that's easy to forget when watching them waddle on land.
Koalas
Dozing off is always a summer afternoon pastime, and nobody does it better than koalas, the world's cutest snoozers. They can be found in their trees in Urban Jungle munching on eucalyptus until it's time to catch a "Z" or two.
Busy Bee Café
Buzz on over to the Zoo's newest eatery, the Busy Bee Café for everything from cold sodas and margaritas to family-friendly meals of pizza and wings or garden-fresh salads.
Retail
Support San Diego Zoo Wildlife Alliance's conservation mission every time you shop at the Zoo's retail stores for souvenirs, fashionable merchandise, snacks and last-minute essentials like sunglasses and hats.
San Diego Zoo Safari Park
Giraffes
Watch as the tallest land mammals munch away on leaves from the tallest branches around. It takes a lot of nibbles to reach the 75 pounds of leaves giraffes gobble up each day. They lumber along the African Plains habitat with other herd animals like rhinos and Cape buffalo.
Elephants
Elephants love a nice dip on a summer day, so there's always a chance of seeing them hose off with their trunks. The herd of endangered African elephants may also take a bit of a mud bath, or maybe soak up the shade in their expansive habitat in Elephant Valley. Keep an eye out for the youthful members of the herd who, while not so little, still display their youthful exuberance.
African Lions
From almost anywhere in the Safari Park, you can hear it: a roar that strikes deep in your chest. At Lion Camp, you can come eye-to-eye with these magnificent predators, equally impressive whether indulging in a cat nap or strutting around their kingdom.
Wildlife Safari
Climb aboard a caravan truck for a safari of the African savanna. There's no better view than the one you'll get from your comfortable, shaded seat as the vehicle moves over the amazing landscape. Your guide will interpret everything there is to see and give you an understanding of how we can all make an impact on wildlife conservation.
The Watering Hole at Kijami Overlook
Take in the incredible views of the East Africa savanna at this outdoor restaurant and bar, the Safari Park's newest eatery. Enjoy a wonderful menu of smile-worthy burgers, salads and desserts.
Retail
Stop into one of the Safari Park's retail stores for candy and snacks or hats, clothes or souvenirs of your adventure; and all of your purchases help support our conservation work worldwide.