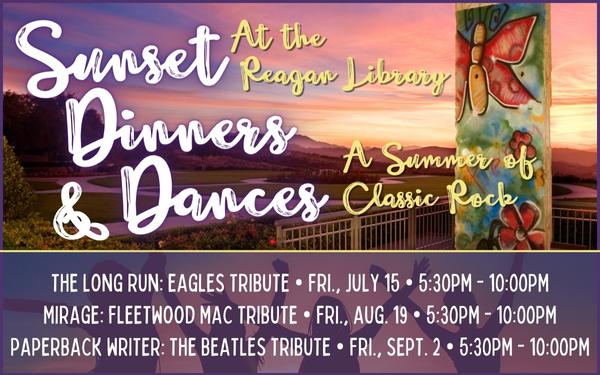 Listen in to win tickets to Sunset Dinners & Dances at the Reagan Library featuring the Long Run Eagles Tribute July 15th!!
Each day listen for the keyword and text to our Text line courtesy of Soundz Good Stereo, "your vehicle upgrade specialist" at 805-283-2800.
Event Info CLICK HERE
Contest Rules CLICK HERE
The Ronald Reagan Library Sunset Dinner Series welcomes back The Long Run for their sixth summer to perform a quintessential performance of the Eagles! The Long Run is dedicated to faithfully recreating the timeless music of The Eagles. Their authentic live performance will bring these classic rock anthems to you on this epic evening of rock n' roll.
Begin your evening with a served three-course meal. This meal will be the perfect addition to your evening of rock n' roll entertainment. Between dining dancing, tour the amazing Ronald Reagan Presidential Museum and our Secrets of WWII exhibit from 5:30 p.m. – 9:00 p.m., and the spectacular Air Force One from 5:30 p.m. to 10:00 p.m.
Reservations are required and must be made by Monday, July 11 at 8:00 a.m. Reserved tables are available for parties of 10 or more. Casual dress attire is suggested.
For more information, please call 805-577-4057.