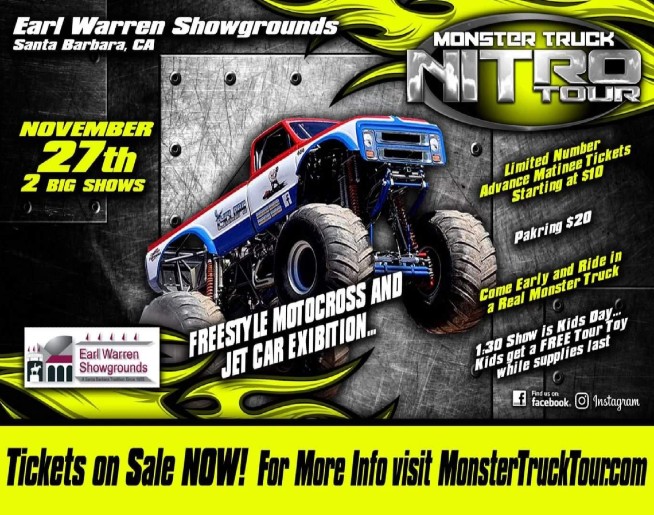 THIS WEEK ON KRUZ 103.3 LISTEN IN FOR THE KEY WORD AND 'TEXT TO WIN' FOR YOUR CHANCE AT A FAMILY 4-PACK OF TICKETS TO THE MONSTER TRUCK NITRO TOUR AT EARL WARREN SHOWGROUNDS IN SANTA BARBARA SATURDAY NOVEMBER 27TH!
Contest Rules CLICK HERE
Event Info CLICK HERE
MONSTER TRUCK NITRO TOUR!
FOR THE FIRST TIME EVER!
WITNESS THE THUNDER!
SANTA BARBARA, CA. will be motorsport entertainment's epicenter with the
nation's most competitive MONSTER TRUCKS, as the Monster Truck Nitro
Tour invades the Earl Warren Showgrounds on November 27TH for TWO
MONSTER shows! See these incredible 10,000-pound, car crushing giants
compete in racing, wheelie contests, and then rock the house with amazing
freestyle action during the Monster Truck Nitro Tour! Plus, you can meet the
drivers and see the trucks up close at the pre-event Autograph Pit Party!
MONSTER TRUCKS: CYCLOPS, UNNAMMED & UNTAMMED, TROUBLE MAKER, DOUBLE TROUBLE, MONSTER MOOSE
FREESTYLE MOTOCROSS, JET CAR EXHIBITION, RIDE THE TRUCK
Saturday, November 27th, 2021
1:30 pm (Pit Party 12:00 pm–1:00 pm)
Saturday, November 27th, 2021
7:30 pm (Pit Party 6:00 pm–7:00 pm)
EARL WARREN SHOWGROUNDS
3400 CALLE REAL
SANTA BARBARA, CA 93105
www.earlwarren.com
Advance discount tickets are available online at www.MonsterTruckTour.com
OR GET THEM AT THE GATE!
Tickets are subject to a service charge.
• Children 2 and under are FREE
• Ticket prices go up Day of Show
• EVENT WILL RUN RAIN OR SHINE
The latest information may be found at www.MonsterTruckTour.com ,or by
calling (480) 773-6822.
For facility information visit www.earlwarren.com
All information is Subject To Change