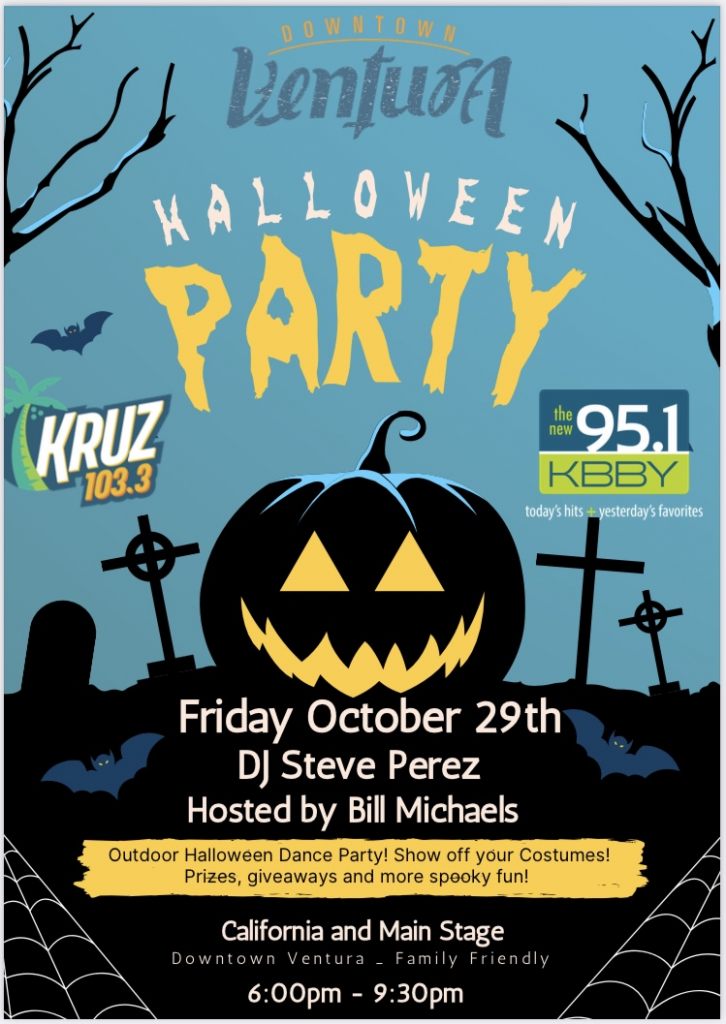 Friday October 29th, 2021 95.1 KBBY, 103.3KRUZ & Downtown Ventura Partners Proudly Presents:
The Downtown Ventura Halloween Block Party!
Join us on California & Main for this devilishly delightful outdoor, hi-energy, spectacular good time! DJ Steve Perez of 103.3 KRUZ will be in the mix playing all the best dance hits of yesterday and today, guaranteed to move your feet! Our stage will be decked out with spooky lighting, decorations, and killer sound to create an amazing experience not to be missed! Show off your Halloween costumes on Main Street! Bill Michaels of 95.1 KBBY will be awarding prizes around 8:30pm! Prizes include: Tickets to Six Flags Magic Mountain, San Diego ZOO & Safari Park, Gift Cards and much, much more! Located at: California & Main Stage, Downtown Ventura
Friday October 29th, 2021 6pm-9:30pm!
Free Entry, All Ages welcome!
All the Downtown Ventura businesses will be open, so come on down and support the community as well as our local businesses! Happy Halloween from Cumulus Media and Downtown Ventura!